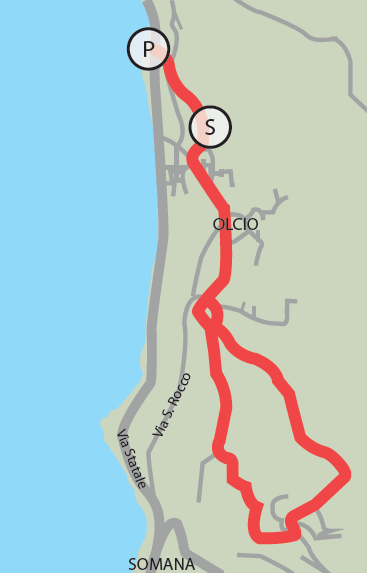 L'Anello di Olcio - The Ring of Olcio
Lake Como
Leaving the car park 'P' on the lake, take care in crossing the road on the pedestrian crossing; you then find a short track, passing a vegetable garden on your right before passing under the railway bridge.
The path then brings you to the station 'S', which is another point of departure.
Continue on into the village, keeping to the road that bears you upwards and to the right.
At the end of the settlement you come to a small car park and the church of San Rocco.
An asphalt road leads you up from the park and you immediately come to a crossroads of paths.
Take the cobbled mule track that leads you up, initially between meadows and on your left an olive grove.
Further on up, and after 500m take the right turn into a narrow lane that runs between walls. This lane takes you out through the walls and onto an asphalt road where you get a view of the town of Mandello. Follow this road down but only for a few paces and take a right onto a grassy path, which leads you down, through some woodland, before bringing you out into the open and a wide view looking north of the lake and the meadows of Olcio. A flattening white stone road helps you back to the crossroads of paths and the completion of your circuit. From here you can retrace your steps to your point of departure.